At the IMA, we learn and grow through the network of our members. That is why we want to share with you the most present and innovative practices that are changing today's market.
Earlier this year, we held our annual conference and awards ceremony in Las Vegas – see IMPACT16 – and from that, we have built case studies around IMPACT award winners and the strategies that have put them on top. Presenting: IMPACT showcase.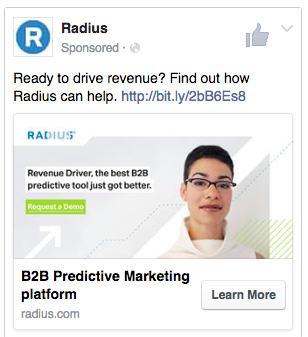 Best Use of Facebook – Radius
Radius had ran a B2B Facebook ad with the predictive power of Radius Audience Enhancement, which gives both far greater and more targeted reach than is typically possible in a dynamic way with these display ads.
Here's what they did:
We took our Tier A and B target accounts as defined and agreed by Marketing and Sales.

We connected them to Radius to take advantage of the Radius Business Graph and the data science that allows us to leverage it in innovative ways. We amplified our audience by 4x.

We launched the ad on Facebook.

We let it run….and it gets dynamically updated, amplifying our audience even further.
#4 is the best part: the audience we are reaching on Facebook with this ad is dynamically updated with the constantly evolving data from the Radius Business Graph. Some of this data changes very quickly like whether someone is in the market for our type of product, and is typically very hard to act on manually.
We are relying on this campaign to create awareness via Facebook, which it is doing successfully, all without manual effort on our part.
You can read the full article >>here